Reno Rodeo Western Heritage Museum Buy-A-Brick Program
For more than half a century Cotton Rosser has continued to bring rough stock, master showmanship, creative imagination, and his family to the Reno Rodeo. One of his most valued gifts is his character and integrity. Cotton Rosser is considered to be the king of the Cowboys in the rodeo world and is the embodiment of the western spirit.
A bronze statue of Cotton is mounted on a granite pedestal in front of the Reno Rodeo Association office located at the Reno Sparks Livestock Events Center. The statue is surrounded by a memorial brick walkway leading to the Reno Rodeo Association office.
Memorial Bricks
Through the Reno Rodeo Foundation's Buy-A-Brick program, you can become a permanent part of the Cotton Rosser Tribute while helping to fund the Reno Rodeo Western Heritage Museum.
Buy a Memorial Brick
Recognize a special person in your life
Commemorate a special occasion
Help Us Build The Reno Rodeo Western Heritage Museum One Brick At A Time
Your Name on a brick (1 line) $100
4″ x 8 " Brick Paver (3 lines) $250
8″ x 8″ Brick Paver (6 lines) $500
The Reno Rodeo Western Heritage Museum fund is administered by the Reno Rodeo Foundation, a Nevada 501(c)3 non profit corporation, Federal Tax ID #88-0230538. The total amount of your contribution is tax deductible as a charitable contribution. It is recommended to consult your tax adviser.
Questions? Please call the Reno Rodeo Foundation at 775.322.9875 or email info@renorodeofoundation.org.
Thank you for your interest in buying a memorial brick and preserving our Western Heritage!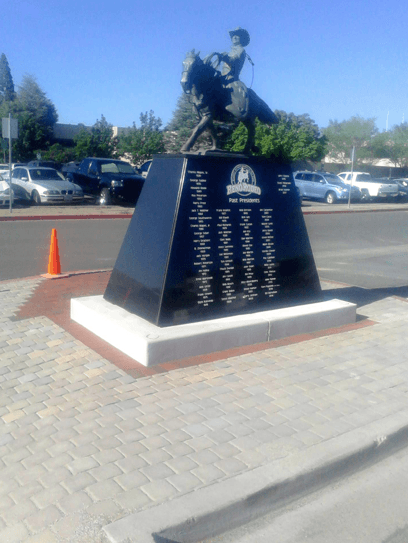 Is this in honor of someone?